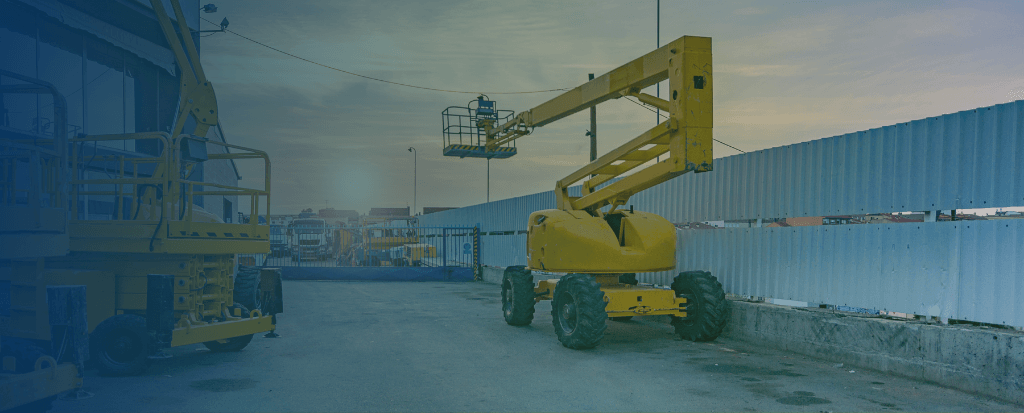 Equipment financing is an increasingly popular way for businesses to finance the purchase of major equipment or machinery. It is an efficient and cost-effective way to acquire necessary equipment without taking on debt or using up capital reserves.
This guide will provide an overview of the equipment financing process, describe how it works, and explain what businesses qualify for this type of financing. We will also provide some tips for businesses looking to finance equipment. We hope this page provides you with the information you need to make an informed decision about equipment financing.
The Cost of Equipment Upgrades
As someone who owns and operates your own business, you know the stress that cash flow shortages can bring. When money is tight, you have to make hard decisions about which areas receive funding first. Expenses like payroll and insurance often become pressing monetary concerns, leaving upgraded equipment or accounting services to take second priority.
If your company relies on vehicles, computers, or complex machinery, your equipment is the lifeblood of your business. New and growing companies don't always have the cash lying around to buy or upgrade necessary equipment or the credit history to get a good loan from the bank. So what happens when you need new equipment but can't pull cash away from daily business expenses?
Equipment financing provides you with a quick way of purchasing or leasing the equipment you need to keep your business running, without affecting your credit score or emptying your bank account. The financing process involves several steps.


What Is Equipment Financing?
In simple terms, equipment financing is a process where a business owner borrows funds to buy or lease equipment. This type of financing can be used to purchase new or used equipment and can often be more affordable than other kinds of financing. Here's how the process works.
Step 1: Identify the Equipment Need
This involves deciding what type of equipment is needed, what features are important, how long you need it, and what the budget is. You can use equipment financing to purchase expensive equipment that is too pricey to buy upfront or to simply replace outdated equipment that no longer serves your business.
Step 2: Research Potential Financing Options
Compare the interest rates, terms, and other factors to determine which lender is the best fit. This is an important step, because the right lender will act as your financial partner, helping you make the best choices for your company and sharing any potential issues or additional fees upfront.
Step 3: Apply
After finding the right lender, the next step is to complete the loan application. This will typically require you to provide financial information and documents that prove the ability to repay the loan. This may include providing bank statements, tax returns, and other information to prove that the small business is financially stable enough. In many cases, the equipment purchased can be used as collateral to secure the loan.
The actual terms of your agreement will vary depending on your industry, the type of equipment you need, and how long you need it for.
Step 4: Payment
When the agreement is finalized, the lender will advance the sum to you to use to secure the equipment through a lease. Then you will make arrangements for the equipment to be delivered. From there, the loan payments will need to be made on a regular basis to pay off the loan.
Step 5: Repeat as Needed
When your lease ends, you can decide to continue the lease, purchase the equipment, upgrade to newer equipment, or return it. This process can be repeated as many times as needed through your lender.
Leasing equipment is a great option for a variety of businesses, large and small, as it offers a variety of financial advantages.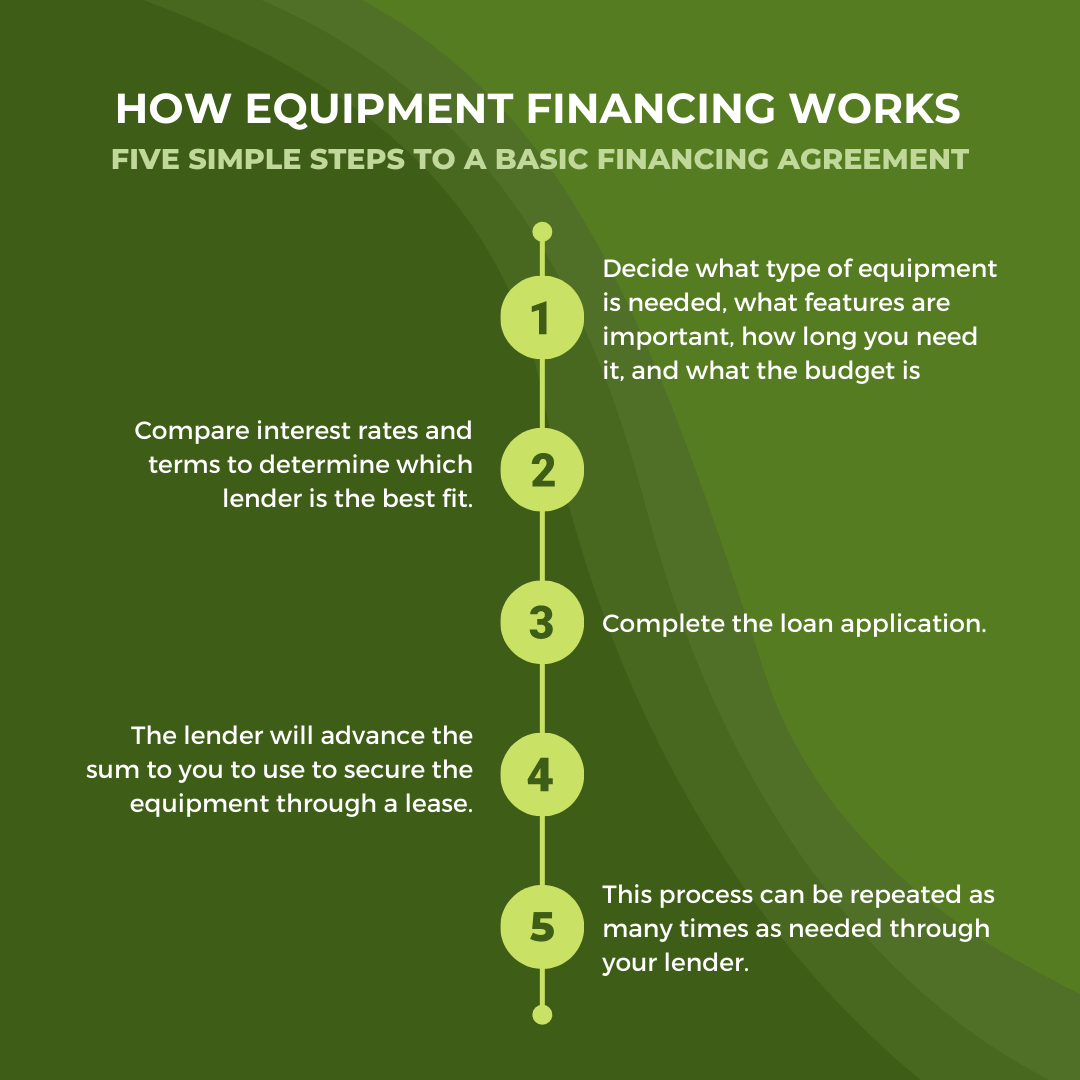 Why Businesses Use Equipment Financing
Why do companies choose to finance equipment instead of buying it? The simplest answer is that it is often cheaper in the short term. Small businesses without cash reserves don't have the luxury of shelling out big bucks to repair or upgrade equipment. They also may not have the credit score required to obtain favorable interest rates for a bank loan.
Maybe you need additional equipment to bid on an upcoming project, or your obsolete tools are keeping your business from keeping up with competitors. Whatever the reasons are, leasing equipment allows for more flexibility and less commitment.
There are many advantages and benefits of equipment financing:
Reduced credit risk. Unlike a traditional loan, you do not have to take out a new line of credit to lease new equipment.
Save on maintenance costs. When you lease equipment, maintenance and repairs are usually handled by the leasing company.
Claim tax credits. You can claim lease expenses on your tax return at the end of the year.
Option to upgrade. If the technology in your industry is constantly evolving, equipment may be obsolete in a year to two. You can always upgrade the equipment at the end of your lease.
No application fee or down payment. It is not expensive to apply for equipment financing with an equipment financing company.
Many businesses in a variety of industries can benefit from leasing equipment instead of buying it. But, this may not be the perfect option for every business.


Potential Drawbacks

Like any financing method, there are some downsides to equipment financing. There are a few disadvantages of equipment financing:
Can be more expensive overall. Though the monthly costs are lower, a long lease period could end up costing you more than paying for the equipment outright.
Reduced revenue. Monthly payments take money out of your revenue until the loan is repaid.
Minimum requirements. Financing companies often have a few requirements in place to reduce their financial risk. You need to be in business for at least a year and have a certain minimum annual revenue to qualify. Make sure to clarify what these qualifications are when searching for financing companies.
Every financing company will have different qualifications for who can apply for equipment financing. At Factor Funding, you can qualify if you have:
A business credit score of 650 or higher
Been in business for at least one full year, ideally two
Annual revenue of at least $50,000
Different companies will hold their requirements with different levels of rigidity. Even if you don't meet all qualifications, you can always reach out to a company you're interested in to ask clarifying questions. If the lender determines your company's eligibility, they should overview the application process with you.
Every business is different, and your business's specific needs will determine whether equipment financing will work for your situation or not. Even if you're on the fence, consider contacting a few different financing companies to learn about their leasing plans; the more experienced companies that have worked in your industry may even be able to make equipment or leasing recommendations.
The lender will conclusively determine your eligibility after you submit an application and your financial details are reviewed.


How to Apply for Equipment Financing
Applying for equipment financing has never been easier. With online applications, you can be approved in as little as 24 hours.
As mentioned above, you will likely have to provide information like what type of equipment you want to finance, your monthly budget, the desired length of lease, and your credit information (Don't panic! Bad credit won't hold you back from qualifying in most cases).
The financing company will review your request and then contact you to discuss your status and funding options. Once everything is finalized, you will receive the agreed sum or equipment.


Equipment Financing Helps Improve Cash Flow
Your business relies on equipment, just like it relies on competent employees and smart leadership. A stable cash flow is essential for business success, and you don't need to sacrifice your cash flow to pay for repairs or upgrades. Leasing equipment can keep things running so you can spend your hard-earned money on investing in your business's future.
Working with a financing company that understands your industry and prioritizes your business needs makes it easier to achieve your goals. Factor Funding is the expert you can rely on and the financial partner you can trust. Contact us today to learn more about our equipment financing program and how we can work together to give your business the boost it deserves.