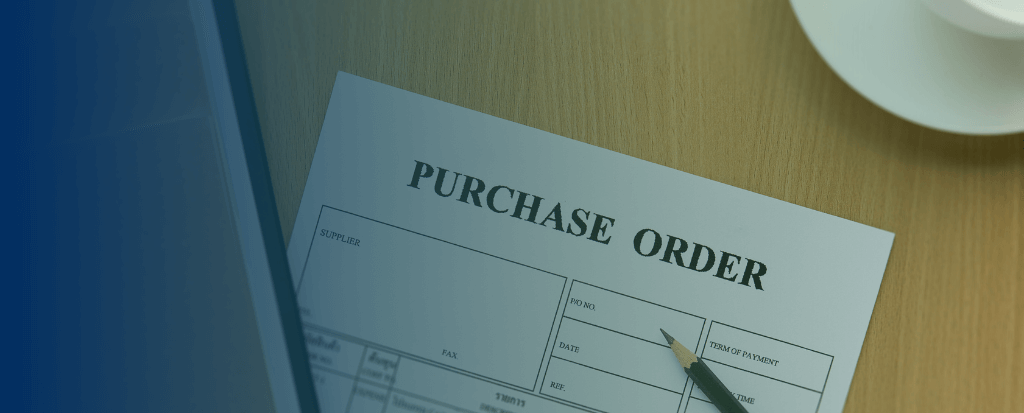 As a small business owner, your biggest wins can also present your biggest challenges. An unusually large order from a customer can be a blessing for your business. But what if the order is so big that you don't have the funds to pay your suppliers?
When this happens, you don't have to turn customers away. There is a short term financing option available to help you get by until you receive the customer payment. When you need cash to fulfill an outstanding customer order, you can apply for a type of cash advance known as purchase order financing.
What Is Purchase Order Financing?
Purchase order financing (commonly referred to as PO financing) helps companies that receive more orders than they have the budget to complete. You secure this type of financing before fulfilling an order and sending the customer an invoice. If you need cash after the order is completed, look into invoice factoring.
As you know, when your customers want to purchase from your business, they send you a purchase order: a list of the amount of goods needed and the terms and conditions of delivery and payment.
After receiving a purchase order, you then turn to your suppliers to prepare the goods needed to fulfill the order. When times are tough and your business doesn't have the budget to pay these suppliers, that's where PO financing comes in.
PO financing provides an advance payment to the supplier to assure them that you can pay for the order. This advance can tide you over until you complete the order and are paid by the customer. Now you don't have to lose the customer or your relationship with your supplier.
Setting up a PO financing agreement with a trusted lender or funding company is a quick and simple process.
The Purchase Order Financing Process
Once you've determined that your business needs extra funding to complete a customer's order, you want to search for a reliable lender or funding company. Look for a company that is transparent about fees, requirements, and contract stipulations (more on this later).
After you've found the right lender, the process is as follows:
You send an application for PO financing to the lender.
The lender will review your application and accept, if you meet all necessary qualifications (see Restrictions and Considerations below).
You then send your supplier's proforma invoice to the lender.
The lender advances a portion of the purchase order value to the supplier.
After the order is completed, you send the invoice to both your customer and the lender.
The lender collects payment for the full price of the invoice from your customer. If you are working with a funding company, the invoice is factored to close out the purchase order and pay off the company.
Finally, the lender will pay you the remaining balance (minus advance and fees).
Once you set up a financing agreement with a PO lender, the lender typically pays up to 100% of the cost of the goods or 70% of the purchase order value. If the company doesn't approve 100%, you are responsible for the balance.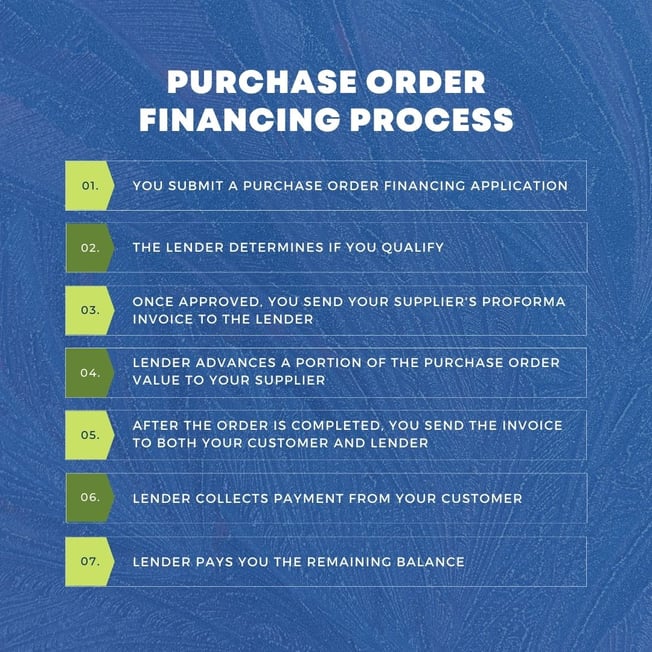 Be sure to check with the lender about which type of advance payment your supplier will accept (bank transfer, check, letter of credit, etc.) before you sign the agreement.
Purchase order financing is a short-term financing agreement, so you can repeat this process as many times as you need to. Once you have a relationship with a trusted lender, the approval process is even shorter and you can receive the advance quickly.
The lender usually takes 24 to 48 hours to approve financing for all or a portion of the purchase order and process the payment advance. Often the advance is sent to the supplier directly. Ask your lender which applies.
PO financing fees will differ depending on which lender you work with, but they are generally 1% to 6% per month, based on a per-30-day period. The percentage is charged on a total of the supplier's costs, but they increase the longer it takes your customer to pay the purchase order.
Some lenders use a different fee structure. They charge a set fee for the first 30 days and then a tier-stepped rate for a specified number of days until your customer pays the invoice.
Who Uses Purchase Order Financing?
Many businesses use PO financing when they have rapidly growing sales, capital constraints, seasonal spikes, or high development costs. Startups or new businesses that don't have a reliable cash flow also use this type of financing.
Businesses in the following industries use PO financing often:
Importers and exporters
Wholesalers and distributors
Manufacturers and assemblers
Resellers and outsourcers
When searching for purchase order financing, try to find a funding company or lender that has worked with businesses in your industry before. Factor Funding has worked with a variety of industries to help bridge the financial gap between selling and payment. Check out this list of industries we serve.
Restrictions and Considerations
Not every business that works with suppliers is eligible for PO financing. There are some restrictions on the types of purchase orders lenders will take. The purchase orders must be for pre-sold, tangible products. The products must be for non-consignment sale and must be non-cancellable with a gross profit margin of at least 20%.
Lenders prefer purchase orders for finished goods that are available for resale on the open market, but this may differ from lender to lender.
Your personal or business credit rating is typically not a major factor in qualifying for PO financing. Your buyer's rating is - because they're the ultimate payer. Lenders are more likely to work with you when your buyer has a good reputation for paying invoices on time. This lessens the lender's financial risk.
Advantages and Disadvantages of PO Financing
So why do businesses turn to PO financing over traditional bank loans? The advantages of PO financing are many:
It's faster and easier to obtain than a traditional bank loan.
It doesn't depend on your personal or business credit rating.
After qualifying for the service, your next PO funding request will be available even faster.
It allows you to take on customer orders you couldn't fulfill otherwise.
It doesn't require you to budget monthly or weekly loan payments.
The lender acts as a collection agent, so you don't need to spend time chasing delinquent customers.
And much more!
Of course, there are some situations where PO financing may not be the best funding option for your businesses. Some disadvantages to PO financing include:
If your customers, as a group, have poor credit ratings, you might not qualify (check with the lender first before disqualifying yourself).
It can be more expensive than traditional loans.
It relies on your customers to pay in full and on time.
You lose control of part of the payment process (the lender will handle collecting payment from your customer).
If the supplier takes longer than expected to fulfill the product, your fees can increase over time.
It isn't available for service-based businesses.
PO lenders typically take only large purchase orders.
Your customers could assume

,

albeit erroneously, that you have cash flow problems if they receive communications from the lender instead of you.
A big part of your decision to apply for PO financing depends on your customer. Because the lender focuses on their creditworthiness, you should factor the customer's payment history and the size of their purchase into your decision. If a customer cancels an order, you could be responsible for the amount or portion of the purchase order you borrowed against, along with associated fees.
Like any financial decision, take some time to weigh the benefits and drawbacks for your specific situation before applying. Reliable lenders should discuss your agreement with you and may be able to suggest a different kind of financing if PO financing is not the best fit.
When you determine that PO financing is a great option for your situation, there are some things you'll need when applying.
How Do I Apply for Purchase Order Financing?
Approval for PO financing is based on three elements:
Your customers' creditworthiness
Your supplier's reputation and track record
Your business qualifications (but not necessarily your credit record)
Your customers' creditworthiness comprises the lion's share of the decision.
In your application, you will need some or all of the following documentation (dependent on your lender's request):
Copies of your articles of incorporation and your by-laws
A copy of your fictitious name filing (DBA), if applicable
A copy of your partnership agreement, if applicable
Your financial statements
Your schedule of aged accounts receivable and/or payables
A copy of your tax filings and record of payment or current standing
These documents help the lender decide if this agreement is a risk they are willing to take on. When you apply, make sure you know the answers to these questions before signing an agreement:
Has the lender worked with businesses in your industry before?
How does the lender pay suppliers?
Will the lender contact your customers directly? If so, how?
How quickly will the payments be made?
What are the lender's fees?
What happens if the customer does not pay?
Asking these questions will help you determine if the lender is experienced, reliable, trustworthy, and the right fit.
How Purchase Order Financing Helps Your Cash Flow
Purchase order financing allows you to fulfill orders even if you lack current inventory or supplies. There is little to no gap between the customer shipment and the customer payment, and your cash flow remains even with fewer ups and downs, if any.
Also, PO financing makes it easier to obtain traditional business loans in the future because you aren't taking on additional financial risks. You keep your credit rating high, which allows you to finance company growth at attractive interest rates.
If your business is having cash flow problems, don't lose the faith of your customers or suppliers by passing on large order. Factor Funding can help you reduce your credit risk and grow your business through our purchase order funding program. Contact us today to get started.