Are you ready for your staffing agency to grow?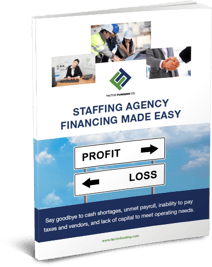 Our team know that staffing professionals face unique challenges during day-to-day business operations. That's why we created Staffing Agency Financing Made Easy, a guide explaining how your staffing business can improve and grow cash flow
This eBook will detail:
Common issues facing staffing businesses
An introduction to how factoring can help
Information on choosing the right factor
How to apply for funding
If you're ready to find solutions to your financial problems, fill out the form and download the eBook today.